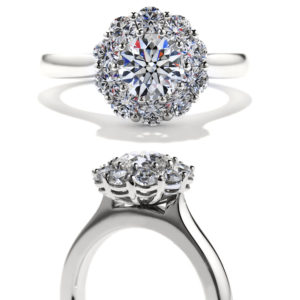 There's still time to find the perfect engagement ring for your holiday proposal. If you're looking for an engagement ring in DC that's as unique as your bride, Charles Schwartz can help.
We can help you design a custom ring made just for her or guide you through our large collection of unique designer and antique jewelry. You can find a ring that fits her personality, and she'll want to show off to all her friends and family.
This will be one of the most important purchases of your life. Before deciding on a ring, you should:
Talk budget– The purchase of an engagement ring can be a huge financial decision and should not be taken lightly. Decide on a budget before falling in love with a ring so that you feel comfortable when it comes time to buy one.
Discuss styles– Every bride has her own unique style. It's always a good idea to discuss what she wants in her ring as far as setting, style, and size. If you plan on it being a complete surprise, it can be hard to discuss this beforehand. Take a look at her jewelry and see what she already likes to wear. Is she a more simple or extravagant kind of girl?
Look at rings– Ring shopping can be a great bonding experience, and you can be certain that you're getting something she loves. If you don't want to go ring shopping, you can always take a look at her Pinterest boards to see what she's been pinning.
Talk to her loved ones– Her best friends and family know her nearly as well as you do. It can be helpful to get their opinion on what she'll love. They may have insights into what she's pointed out before or helpful suggestions.
How to Choose Between Antique, Designer, or Custom DC Engagement Rings
When it comes to deciding between antique, designer, or custom, you have to trust your instincts and think of what your future bride would want. The sky is the limit with a custom engagement ring. We can create something wholly unique and designed specifically with her in mind.
A designer piece is new and entirely hers. For example, you can get her a gorgeous Hearts on Fire engagement ring that she'll surely say yes to. Antique jewelry is great for a bride who wants something with a little history behind it, or something different than jewelry made today. We'll help you find the one that's perfect for her, whether it's custom, designer, or antique.
Call us today to make an appointment or reach out online and let the experts at Charles Schwartz find you an engagement ring in DC that she'll say yes to.