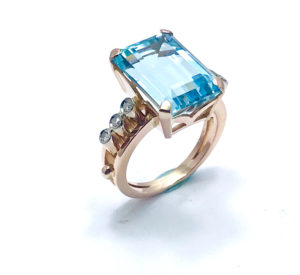 Everyone loves a gorgeous piece of jewelry with their birthstone, and March babies are particularly lucky to have the gorgeous aquamarine at their birthstone. Whether you're looking for a birthday gift or just interested in owning a piece with the lovely gemstone, we can help you find the perfect piece of aquamarine jewelry.
Not only is aquamarine a stunning gem, but it is also relatively durable and comes in a variety of blue and green hues. Its name, derived from the Latin word for seawater, was believed to keep sailors safe at sea. This lovely gemstone is also thought to enhance the happiness of marriages, according to GIA.
This gemstone makes a wonderful gift whether for a birthday, anniversary present, or if you're just looking for something to add to your personal collection. Its striking coloring is sure to draw attention and make a statement.
When you're looking for a piece of vintage jewelry for yourself or as a gift, trust the jewelry experts at Charles Schwartz to help you find the perfect piece. We've been helping our customers find pieces they love since 1888, whether it be designer, vintage, antique, or custom.
We're passionate about what we do and will happily guide you through our collection to find something that suits your budget and needs. We'll discuss your recipient, the occasion, and your budget when during your consultation. We can advise you on what type of gemstone suits your needs and can answer any questions you have along the way to ensure you're making the right choice.  
To schedule a consultation with one of our jewelry experts to find the perfect piece of aquamarine vintage jewelry in DC, call us at 202-363-5432 or click here.