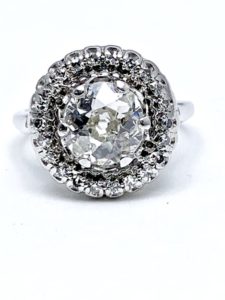 As wedding season comes to a close, engagement season is just around the corner. When you're searching for the ring your partner will wear for the rest of their life, you want to make sure it's something they'll love. Charles Schwartz has been in business since 1888 helping customers find the perfect engagement ring in DC and we're here to help you find the right one for you.
Where to Start When You're Searching for an Engagement Ring in DC
Make a budget – one of the first questions you'll be asked is "what is your budget?" This will help us find a ring that you and your wallet will love. We offer financing options as well to make the ring you want attainable.
Know your vocabulary – Color, cut, clarity and carat are the four most important words to know. All four can vastly affect your budget, so make sure to talk to your significant other about what she wants out of her ring.
Decide on a style – An engagement ring is more than just a piece of jewelry, it's something your significant other will wear for the rest of her life. Whether she wants a solitaire, halo, antique or something unique, we can help you find what you're looking for.
Try on rings together or create a wish list – It can often be difficult, even with direction from your significant other, to find the exact ring she wants. By taking her to our store, we can show you our wide selection and allow her to try on different rings to find her specific style. You can also have her create a wish list of rings she wants so you can be sure to pick out one she'll love.
When You're Ready to Buy an Engagement Ring in DC, We're Ready to Help.
When it comes to an engagement ring you want to find something that represents the love that the two of you share and stands the test of time. Whether you've bought plenty of jewelry in your time together or this is a first, we're here to help you find the one she'll say "yes!" to.