Birthday gifts are extremely hard to shop for, especially when it comes to Jewelry. As your local DC jewelers, we love to help our clients pick out the perfect February birthday gift.
DC jewelers guide to the February birthstone
Brighten up your dreary February with beautiful birthstone jewelry.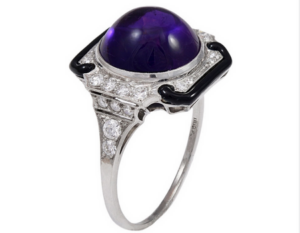 The February birthstone is Amethyst. Amethyst is a beautiful purple stone that has been worn for centuries.
"Amethyst is purple quartz and is a beautiful blend of violet and red that can be found in every corner of the world. The name comes from Ancient Greek, derived from the word methustos, which means "intoxicated." Ancient wearers believed the gemstone could protect them from drunkenness."
The Ancient Greeks and Romans also believed that this gem kept the person wearing it clear-headed and quick-witted. The gem has also been used to show royalty, upper status, and wealth, among other things.
However, in the 21st century, the stone symbolizes beauty in its truest form.
What should you wear with Amethyst jewelry?
This bright purple gem should be the center of every ensemble.
The purple works with both warm and cool colors but looks best with the basics.
The perfect outfit would be all black with Amethyst as the centerpiece.
DC Jewelers, Charles Schwartz & Son have the perfect Amethyst jewelry pieces for you
Looking for an Amethyst gem for a February birthday? Charles Schwartz & Son has you covered.
We offer a variety of Amethyst pieces. Most notably, our:
12.88 Carat Heart Shape Amethyst and Diamond Ring
"A gorgeous 12.88 carat heart shape Amethyst and round brilliant Diamond 18k white gold cocktail ring. The Amethyst is set with six prongs, surrounded by a single row of Diamonds totaling 1.20 carats.  The Diamonds are graded as G-H color, VS clarity. The shank of the ring is squared off, and also has butterfly fitting inside to prevent the ring from rotating."The perfect engagement ring for a February birthday.
5.00 Carat Amethyst and 5.00 Carat Citrine Yellow Gold Bypass Bangle Bracelet
"This is a great, easy to wear bracelet! There is a 5.00 carat cushion shaped Amethyst, and a 5.00 carat cushion shaped Citrine in an 18 karat yellow gold hinged bypass bangle bracelet. The stones are both bezel set at each end of the bracelet, with a hinged, spring loaded bottom center, making it very easy to put on and take off. The bracelet is 9.70 millimeters in width, signed 'Weingrill' and hallmarked '750', 'Italy'" A beautiful piece for the perfect February girl.
Your local DC jewelers have the perfect February piece for you. Call 202-363-5432 today to set up a consultation.