Wondering where to buy an engagement ring in Washington, DC?
Fall in love with Charles Schwartz & Son's collection of unique vintage engagement rings in the heart of DC. Asking your loved one to spend the rest of their life with you is one of the most special moments of your lives, which deserves an equally special ring. With pieces from every era, style, and design, we have a ring for everyone.
Benefits of investing in a vintage engagement ring
When it comes to the most significant symbol of everlasting love, nothing captures the essence of romance quite like a vintage engagement ring. Vintage jewelry holds beauty that transcends time, making it the perfect choice when asking your significant other to spend the rest of their life with you. We invite you to browse our extensive collection of vintage engagement rings to find the piece that perfectly represents your love story.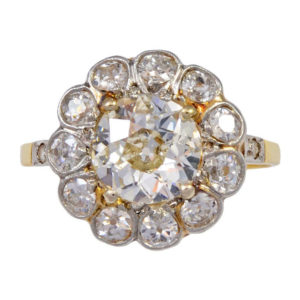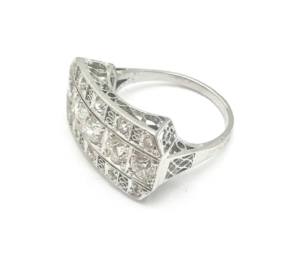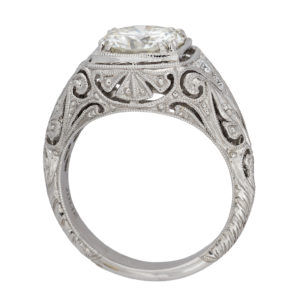 Beauty that transcends time
Our vintage engagement rings in DC date back to all different eras. Each era of jewelry featured its own unique set of motifs, artistic style, meaning, and story as it reflected the history happening at that time. As time continues, the beauty of vintage rings grows stronger. When you choose a vintage engagement ring, you're choosing to continue a story that no one else in the world has.
Trends from the eras were represented in engagement rings in classic and chic ways. Subtle details reflected the popular style at the time. From simple vintage engagement rings to extravagant, we have it all. Our collection of unique engagement rings in DC include pieces from:
Art Deco (1920-1935): Clean, rigid, geometric shapes made with pearls, gemstone mosaics, lacquer, and invisible setting. This jewelry was meant to be simple, elegant, and practical.
Retro (1940s): Plastic, glass, wood, enamel, and synthetic stones with motifs of animals, bows, and flowers were used to make eye-catching costume jewelry. Charm bracelets, cocktail rings, and bold stackable bangles were popular.
Mid-Century (1950s): Costume jewelry from the Retro era was refined and produced with expensive materials. Large, colorful gemstones surrounded by diamonds and long strings of real pearls were popular.
Modern (1960s-present): This era encapsulates all of the trends that came with the 90s, 80s, and on. Jewelry has seen more and more commonalities with sculpture and design.
Trusting Charles Schwartz & Son to seal your love with our Washington, DC engagement rings
Charles Schwartz & Son has been in the jewelry business for over 130 years, specializing in one-of-a-kind vintage and estate jewelry. We pride ourselves on our expansive knowledge of jewelry and ability to meet our customer's needs. While our entire collection of jewelry is gorgeous, our engagement rings are truly magical.
We love to help our customers find the perfect engagement ring to represent their love with their significant other.  When you're ready to find your ring, Charles Schwartz & Son can help you pick out the perfect piece.