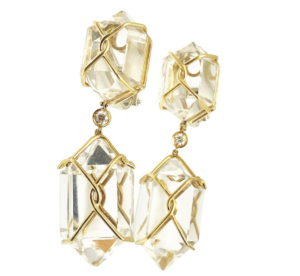 As the summer comes to an end, give your wardrobe an instant update with these designer jewelry trends in Washington, DC to have heads turning and everyone asking 'where did you get that piece from'! Our extensive collection of designer jewelry boasts jewelry from the top designers like Hearts on Fire, Furrer Jacot, Chimento, Alor and more.
Fall in love with the latest fall designer jewelry trends
Period Pieces:
Pearls are picking up steam this season, but it looks like they're being updated in polished, baroque-inspired designs. What we love about the resurgence of this trend is that we offer unique antique and estate jewelry pieces that are one-of-a-kind. Elevate this trend with something no one else will have.
Crystal and Diamond Pieces:
High-sparkle styles are in full force this fall with crystal earrings. Embrace your inner extra with bold crystal earrings that will look just as good with jeans and t-shirt as they do with a glam night-out look.
Chain & Links:
This has been a trend of all of 2019. We love the industrial look that can be layered or worn as a statement piece. Chains can be sleek and heavy metal or over the top, and at the end of the day you can choose the style that suits you best.
Be sure to check out more fall trends here.
Be sure dress to impress by shopping fall designer jewelry trends in Washington, DC.
The experts at Charles Schwartz have seen trends come and go and will be able to help you navigate the unique pieces to find the perfect accessory for your wardrobe.
Whether you're looking for designer pear earrings or a fashion-forward chain necklace, Charles Schwartz can help!
We look forward to helping you find the perfect piece of designer jewelry in Washington, DC. Contact us today.