Finding a trusted jeweler to sell you estate jewelry can be difficult. Charles Schwartz & Son is here to give you everything you need to know about selling estate jewelry.
Before going to sell your jewelry, you should have some idea of how much jewelry is worth. Consider the following points before going to sell your jewelry.
Do your research. Researching your piece can help you understand how much it should be worth. Specifically, looking at the material it's made out of, the gems, and how old the piece is can help you determine more about your piece.
Consider the quality of the jewelry. Do your pieces need any repairs, or is the material scratched? Consider the overall condition of your item and factor that into the cost as well.
Consider the rarity of the jewelry. If your piece is one of a kind, or if there are only a few out there in the world, you can increase the price of your piece. The rarer, the more expensive.
Consider the demand for jewelry. Some types of jewelry are more in demand than others. For example, engagement rings and wedding bands are always in demand, while brooches may not be.
Consider the current trends. Selling your jewelry at a time were it is in trend will make your piece more expensive. Also, the jeweler is more likely to pay more for the piece since it is in demand.
Get an appraisal. If you're unsure how to price your jewelry, you can always get an appraisal from an expert jeweler. This will give you a more accurate idea of the value of your jewelry.
Once you've considered all of these factors, you can start to price your jewelry. It's important to remember that you can always negotiate the price with a buyer.
Here are some additional tips for pricing your estate jewelry: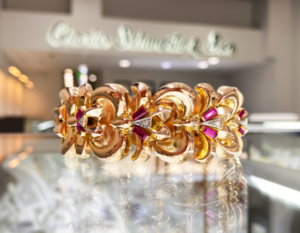 Be realistic. Don't expect to get top dollar for your jewelry, especially if it's not in great condition.
Be flexible. Be willing to negotiate on price, especially if you're selling to a private buyer.
Be patient. It may take some time to sell your jewelry, so don't get discouraged if you don't sell it right away.
The Importance of Getting Your Estate Jewelry Priced by a Professional
A trusted jewelry professional knows the information about your jewelry and will also give you a fair price. A professional jewelry dealer can help you determine your jewelry type and why it may or may not have value. For example, there are many different types of antique silver, and experts have the knowledge and experience to identify and evaluate them with accuracy and precision.
The Benefits of Selling Your Estate Jewelry to Charles Schwartz & Son
Since 1888, Charles Schwartz & Son has been buying and selling the finest antique jewelry in Washington, D.C. The antique jewelry experts at Charles Schwartz & Son simplify buying and selling! Our staff of antique jewelry experts will evaluate your antique jewelry and family heirlooms to offer you the highest possible price while treating each and every customer with the utmost care, professionalism, and confidentiality.
Contact Us Today to Schedule a Free Appraisal!