Estate jewelry refers to pre-owned jewelry that is available for sale or acquisition. At Charles Schwartz and Son, estate jewelry represents a unique collection of pieces that have been carefully curated from various periods and styles. These pieces hold rich history in terms of their era of creation and their previous holders, making some of the most unique pieces we offer.
If you're looking to buy estate jewelry in DC, Charles Schwartz and Son is the place to be. Charles Schwartz and Son has delivered the highest quality jewelry and customer experiences in the nation's capital for over 135 years. With our commitment to exquisite craftsmanship, attention to detail, and customer satisfaction, we have earned a stellar reputation. Whether it's helping you price your antique estate jewelry in DC or browse our collection to buy for yourself, we're here to help.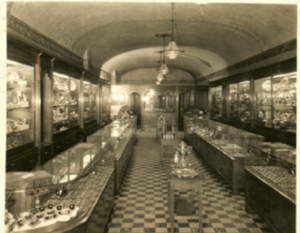 When deciding whether or not to buy an estate piece, there are some factors to consider:
Because these pieces have had a previous owner, estate pieces are generally sold at much lower prices than pieces of similar nature that are manufactured currently.
By buying an estate piece, customers will get a glimmer of the past through the detail and craftsmanship of jewelry-making techniques that potentially no longer exist.
Purchasing previously owned pieces is better for the environment, preserving the resources necessary to create the style of the jewelry piece.
Though these jewelry pieces can be a bit older, they have stood the test of time, denoting their high-quality levels.
As these pieces of jewelry tend to be older, they will have a unique appearance, contributing to your own personal style.
Some of the antique estate pieces we sell include earrings, engagement rings, necklaces, brooches, barrettes, cocktail rings, cufflinks, watches, and more. Our collection of jewelry comes a variety of time periods such as Georgina Era, Victorian Era, Arts and Crafts Era, Edwardian Era, Art Nouveau Era and more. We guarantee you will find the perfect piece for you.
Before going to sell your jewelry, you should have some idea of how much jewelry is worth. Consider the following points before going to sell your jewelry to experienced estate jewelry buyers:
Do your research. Researching your jewelry can help you understand how much it might be worth. Looking at the material it's made out of and how old the piece is can help you determine more about your piece.
Quality of the jewelry. Do your pieces need any repairs or is the material scratched? Consider the overall condition of your item.
Rarity of the jewelry. If your piece is one of a kind, you can increase the price. Typically, the rarer it is, the more expensive.
Demand of the jewelry. Some types of jewelry are more in demand than others. Engagement rings are always in demand while brooches may not be.
Consider the current trends. Selling your jewelry at a time were it is in trend will make your piece more expensive.
Get an appraisal. If you're unsure how to price your jewelry, you can always get an appraisal from an expert jeweler. This will give you a more accurate idea of the value of your jewelry.
Once you've considered these factors, you can start to put together an idea for the price of your jewelry. It's important to remember that you can always negotiate the price with a buyer.
Aside from getting to know your jewelry, here are some additional tips for going through the pricing process:
Be realistic. Don't expect to get top dollar for your jewelry, especially if it's not in great condition.
Be flexible. Be willing to negotiate on price, especially if you're selling to a private buyer.
Be patient. It may take some time to sell your jewelry, so don't get discouraged if you don't sell it right away.
Since 1888, Charles Schwartz & Son has been buying and selling the finest antique jewelry in Washington, D.C. The antique jewelry experts at Charles Schwartz & Son simplify buying and selling! Our staff of antique jewelry experts will evaluate your antique jewelry and family heirlooms to offer you the highest possible price while treating each and every customer with the utmost care, professionalism, and confidentiality.
Contact Us Today to Buy or Sell Estate Jewelry Today!