Estate Rings are Unique and Each Piece has its own Story.
If you've always wanted to own a piece of the past, something so unique it begs the question, "where did you find that?" then an estate ring might be the right choice.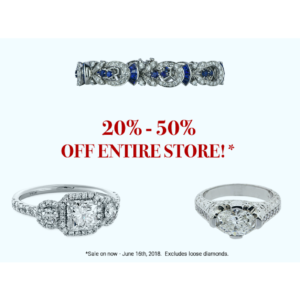 Why is an Estate Ring so Special?
Estate jewelry, particularly estate rings are rising in popularity and it's no surprise why. They are often handmade with techniques that are no longer available today. This makes each piece unique even from others of the same period. When it comes to estate jewelry, there's a world of style possibilities that you can choose from. Victorian era jewelry often features intricate lace patterns, and Art Deco era jewelry exhibits hard lines and complex geometric angles. There's no shortage of distinctive styles to choose from.
Estate engagement rings are becoming more and more widespread. If your heart is set on finding an engagement ring that no one else has then an estate ring is a great option. If you've already found your perfect engagement ring then it would likely pair well with an estate wedding band as there are so many diverse style options. The beautiful and distinctive quality of this jewelry is unmatched, and there's never been a better time to begin your search.
Charles Schwartz has been open since 1888 and in celebration of our 130th year anniversary we're offering up to 50% off* everything in the store including estate rings until June 16th, 2018. The experts at Charles Schwartz are always available to help you find the perfect ring. After all, we've been matching customers with their dream rings for 130 years now!
We look forward to helping you pick your perfect estate ring soon.
*20% – 50% off entire store excluding loose diamonds. Sale ends June 16th, 2018.*