Estate jewelry DC is a unique choice, each piece is one-of-a-kind and often handmade.
Estate jewelry can also be antique, but there is an important distinction between the two types.
Defining Estate Jewelry
Estate jewelry is best defined as previously owned, higher-end jewelry, not jewelry that comes from someone's estate. If the item is over 100 years old, it is also considered antique. Each period of estate jewelry has unique, defining characteristics: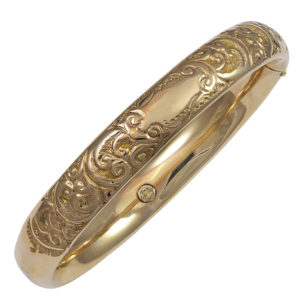 Georgian: Jewelry from this era often includes precious stones in designs inspired by nature and were handmade between 1714 – 1837
Victorian: The early part of this era, 1837 – 1855, produced intricate, delicate designs with colored gemstones. During the latter part of this period, 1885 – 1900, jewelers became more aesthetic incorporating diamonds and colored gemstones into star or crescent shapes
Edwardian: This period is marked by the death of Queen Victoria and the rise of King Edward to the throne, inspiring elaborate designs often containing diamonds, emeralds, or rubies
Art Nouveau: This era is characterized as romantic with natural designs featuring delicate curves, butterflies, and flowers
Art Deco: Beginning in the early 1930's jewelry from this era was influenced by cubism, inspiring sharp geometric designs and well-defined patterns
Retro: Inspired by the rise of Hollywood this era features bold, elaborate designs with colorful gemstones and pieces meant to be stacked or worn together
Finding the perfect Estate Jewelry piece in Washington DC at Charles Schwartz
When searching for the perfect estate piece choose a jeweler you can trust like Charles Schwartz. We've been helping our DC customers find unique estate pieces for over 100 years now so you can trust our commitment to customer satisfaction. Whether it's the Edwardian era or Art Deco, finding jewelry you'll love is easy with assistance from our expert staff.
We look forward to helping you choose a unique piece of estate jewelry soon.