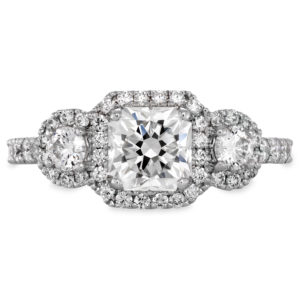 With so many designs, it's easy to get lost in the options when you're looking to buy an engagement ring. Before purchasing a ring, we've created a guide based on trending styles to help you find something that your significant other will love.
Solitaire– Solitaire, while the simplest of settings, can make a statement just as big as the rest. This style features a single stone with a simple band. It's a great option for the minimalist bride who wants something simple or the bride who wants a large stone that demands attention.
Pave– The Pave style, similar to solitaire, features a stone, but the band features rows of smaller diamonds. This style can give the ring a little extra sparkle that goes a long way.
Halo– The Halo style is much like Pave, however, it encircles the center stone with diamonds forming a halo, hence the name. This can be a wonderful option for the bride who wants her center stone to appear larger without the added cost of a larger stone.
3 Stone– This style features 3 stones next to one another, with the center stone typically larger than the side stones. This is another good option for some added bling and sparkle to a ring.
Vintage– Vintage rings are great for the bride who wants to break from the norm. Whether she loves Art Deco rings or just something with a little history, these are a fantastic option to consider.
Custom– The sky is truly the limit with these rings. Whether your bride knows what she wants, or you want us to help you design something that represents your special love for one another, a custom engagement ring comes designed from the heart.
Let Us Guide You To Ensure You Choose An Engagement Ring They'll Love
Charles Schwartz has been helping couples pick out the perfect ring since 1888, and we are more than ready to help you find the ring she'll say "yes" to this engagement season. We have a wide variety of rings to choose from or can help you design a custom ring if you prefer.
Contact us today to set up a consultation and take a peek at some of our options online.