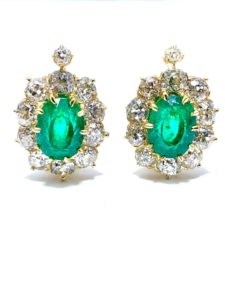 When you're considering selling your antique, vintage, or estate pieces of jewelry, it can be difficult to know where to start. You not only want your pieces to go to a good home, but you want to sell to someone who knows its value and will offer a fair price. The best way to ensure a fair price for your pieces is to turn to the trusted jewelry experts at Charles Schwartz.
How is Jewelry Appraised: What to Expect When You Go to A Trusted Jeweler
When you come to the experts at Charles Schwartz, you can expect:
Professional service– We're passionate about jewelry and assisting our clients. We'll happily go through our process with you, so you feel confident in your decision to sell to us.
An explanation for pricing– We are more than willing to explain how we go about pricing your pieces. We use a wide range of factors to price a piece, including rarity, quality, and the shape it's in. We know your pieces have a special meaning to you and want you to feel comfortable selling your jewelry to us.
Assistance finding a new piece– If you feel the need to fill the space your pieces left behind in your collection, we'll gladly show you around ours to see if there's something that fits your style.
When You're Ready to Sell Your Jewelry, Come to the Experts
We've been assisting customers since 1888 with all their jewelry needs. We purchase all types of fine jewelry such as antique, vintage, designer, estate pieces, and more. We know it can be a challenge to part with your pieces, especially those with sentimental meaning such as gifts, inherited pieces, or something you bought for yourself. But when you're no longer wearing them, it may be time to consider selling them, and we're here to guide you through that process.
To schedule an appointment with one of our jewelry experts to sell jewelry, call 202-363-5432 or click here.