We think so, but then again, we might be biased! Charles Schwartz & Son is DC's oldest jeweler, selling antique jewelry pieces along with a range of designer, vintage, and estate jewelry.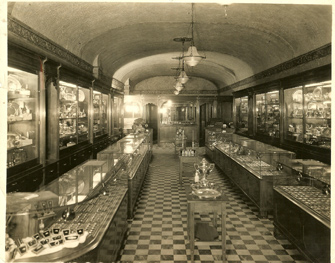 Our store has various different styles and types of jewelry to meet everyone's needs. Whether you're looking for a unique antique piece with incredible history or a custom-designed engagement ring, our master jewelers have you covered!
We have been based in the nation's capital for over 130 years. Our stores take great pride in our name as arguably the most recognizable and finest jewelers in Washington.
Charles Schwartz & Son works hard to meet the jewelry needs of our customers, whether it is to refurbish a family heirloom or find the right gift for that special occasion, we are here to serve you and all of our friends and family in Washington DC. We also buy antique and heirloom jewelry.
We sell a variety of different pieces of jewelry and watches. They vary from different eras, such as the Art Deco or Victorian Era, and have different styles, motifs, and gems. What we offer in-store and online varies between vintage, estate, designer, and antique jewelry.
For example, we will sell vintage jewelry from the Retro Era or antique pieces from the Edwardian Era. Our jewelry stores sell pieces including, but not limited to:
Necklaces
Brooches
Cocktail Rings
Cufflinks
Engagement Rings
Diamond Rings
Bracelets
Repairing Antique Jewelry
Not only do we sell antique jewelry, but we can also repair jewelry of all types and ages. We offer both watch repair and jewelry repair for our customers.
We have one of the finest repair departments in the DC Metro area, as our watch technicians and Master Jewelers are talented craftsmen with many years of specialized experience in assessing needed repairs.
Our in-house Master Watchmaker is certified to work on all fine Swiss watches, including Rolex, Cartier, Patek Phillippe, and many others.
By having our in-store service, we avoid shipping your valuables, enabling us to complete the repair quickly.
Our Master Goldsmiths and Master Platinumsmiths have over 100 years of combined experience. We have done many types of repairs and custom work. From sizing a ring to fit properly, converting your Grandmother's brooch into a pendant, or custom designing a one-of-a-kind piece of jewelry.
Our jeweler will evaluate the work that must be completed and explain the entire process. We appreciate how important your jewelry is to you, so allow us to be of service to you.