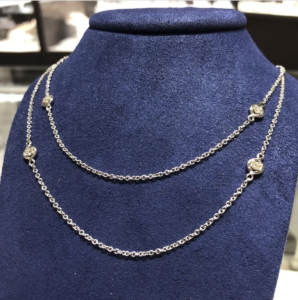 For those born in April, finding the perfect gift can be easy as they have been granted with a popular gemstone, the diamond. Diamond jewelry can be expressive to the recipient because of their emotional connection to their birth month. Diamonds aren't just reserved for engagement rings, but can be shown off in earrings, necklaces and more. Let the experts at Charles Schwartz help you find the perfect piece of diamond jewelry in DC.
Diamonds date back to ancient civilization and have been revered for centuries. According to the American Gem Society, "one of the reasons it is so admired and valued is because of the process by which a diamond must be formed well below the earth's crust, then forced upward until it is uncovered".
Before the diamond making process was understood, some people believed that the gem was associated with great healing power and could cure brain illnesses and draw toxins from blood.
According to history, India was were the diamond first became popular because they were so easily mined from the deposits along three rivers.
Even though the diamond is most notably used in engagement rings, the beauty behind the gem lends itself to be a truly memorable gift in the form of other jewelry.
Diamonds come in all shapes and sizes, and can be added to necklaces, rings, bracelets and more to make the perfect gift for those born in April.
In addition to diamond engagement rings, the following are also popular diamond jewelry pieces:
Necklaces: Diamonds make the perfect piece to add to a necklace. Whether she likes a simple stone necklace or many diamonds, we offer both designer and vintage necklaces that a perfect for any wardrobe.
Bracelets: From bold bangles, to delicate pieces, diamonds on a bracelet are sure to make anyone turn heads to look at the latest arm candy.
Earrings: Gift a classic, diamond stud set or for those who dare to be bold, hoop earrings and dangle earrings work perfectly.
April's birthstone offers endless gifts! As D.C.'s oldest jeweler, the experts at Charles Schwartz have seen trends come and go and will be able to help you navigate the unique pieces to find the perfect diamond jewelry gift.
Contact Charles Schwartz today for help finding DC diamond jewelry gift ideas for those with April birthdays.