Looking for a custom engagement ring for your partner that's one-of-a-kind? Charles Schwartz & Son has custom engagement rings, vintage engagement rings, designer engagement rings, and more!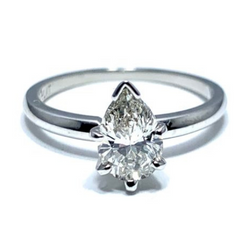 As the oldest jeweler in Washington DC, Charles Schwartz & Son has been based in the nation's capital for over 130 years. As arguably the most recognizable and finest jewelers in the area, we take great care in meeting the jewelry needs of our customers.
If you're looking for a piece of jewelry from a specific era that may be vintage or antique, it's important to look into a ring's metal and gemstone:
The type of metal(s) incorporated into the design of a piece of estate jewelry, along with the metal's karat weight, can reveal a great deal about the age and relative origin of a piece of estate jewelry.
The gemstone(s) – although gemstones have been a staple of high-end jewelry design for centuries, the popularity of specific gemstones varied amongst eras.
There are many different styles, shapes, and eras from which you can choose to buy an engagement ring. Some people love modern rings, traditional rings, or even vintage! Knowing which style fits you or your partner is important when purchasing your dream ring.
The Best Engagement Rings In DC
At Charles Schwartz & Son we offer a variety of custom, designer, and estate engagement rings, as well as:
Vintage pieces such as engagement rings, bracelets, brooches, earrings, necklaces, rings, watches, and more.
Estate jewelry pieces such as bracelets, brooches, necklaces, earrings, rings, engagement rings, and more.
Designer pieces of jewelry that can include engagement rings, necklaces, watches, rings, wedding bands, cufflinks, and more.
Diamonds, diamond rings, and all sorts of different jewelry pieces for you and your loved one(s).
We understand how important proposing to your future husband or wife is. We want to ensure we create and direct you to find the most beautiful and elegant engagement ring. Whether it's a diamond engagement ring, creating a custom engagement ring, or finding the perfect diamond, Charles Schwartz & Son is here to assist.
Started by the Schwartz family in 1888 and passed on to the Pastor family in 1984, Charles Schwartz & Son is your family jeweler.
Charles Schwartz & Son Jewelers has had the honor of servicing the dignitaries of Washington and the world. Along with them, we welcome you to be a part of our family. We invite you to stop in and visit us at any time.
Reputable DC Jewelry Stores For Custom Engagement Rings
Charles Schwartz & Son has two locations. We offer vintage, designer, and antique jewelry at our Washington D.C. location and our storefront in Chevy Chase, MD. We are experts in custom jewelry, appraisals, selling, and buying cutting-edge jewelry.
With Charles Schwartz & Son, finding diamond jewelry for your wedding doesn't have to be difficult. You can call us to schedule an appointment or visit us during our store hours to discuss your custom ring ideas.