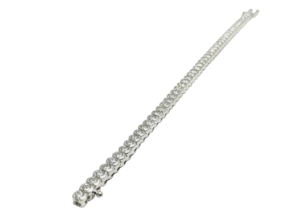 While you probably own a few statement pieces of jewelry, you know that one ring you only wear with that dress on a Saturday night, there are pieces in everyone's jewelry box that are classic and timeless designer jewelry styles that can be worn with every outfit, no matter the day.
Jewelry is investment worthy when the buyer knows that a piece will last forever. While trends tend to rise and fall in popularity here are some designer jewelry trends that aren't going out of style anytime soon!
 Hoop earrings: Both on and off the runway, hoop earrings are making a statement. The beauty of the hoop trend is the various styles you can have, from dainty wire shapes to chunky semicircles.
Tennis Bracelets: The tennis bracelet is a simple yet beautiful piece of jewelry that consists of a line of diamonds of the same size, cut, color and clarity, formed to make a circle. This cluster of pavé diamonds actually got its name from disrupting a tennis match in the 80s. Read more about the history of the tennis bracelet here.
Pearls: Pearls by their very nature are timeless. Particularly this trend saw a rise in the 1920s, when simple strand was worn for necklaces. Currently, the trend is showing off imperfect pearls on necklaces, bracelets and earrings.
Pendant Necklaces: Perfect for wearing alone or layering, the pendant necklace is that little touch that makes any outfit instantly better.
The knowledgeable jewelers at Charles Schwartz will help you find a designer jewelry piece that you'll cherish forever.
Charles Schwartz has been helping DC couples find the perfect pieces of jewelry for over 100 years, so you can trust their commitment to customer satisfaction. We have a vast selection from designers such as Tiffany & Co., Hearts on Fire, and Gabriel & Co.