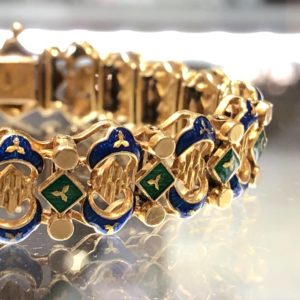 With Mother's Day fast approaching, you want to find a gift as special as the leading lady in your life. Show her she is one-of-a-kind with unique vintage jewelry.
Often handmade and always distinctive, vintage pieces were even sometimes created by techniques no longer practiced today. With over 125 years of experience, the experts at Charles Schwartz & Son are here to help you find the perfect vintage piece of jewelry.
What Makes Jewelry "Vintage"?
It is considered "vintage" jewelry if the piece is between 50 and 100 years old. Whereas, Antique jewelry is over 100 years old and can be rarer and more delicate than vintage jewelry.
Estate jewelry is a piece of jewelry that has had a previous owner. Age actually has nothing do to with whether or not the piece is classified as "Estate."
Vintage Jewelry Gift Ideas
Vintage jewelry is so popular in fashion because of the vast range of styles and its one of a kind nature. From the Art Deco era to the Victorian era, Charles Schwartz has something to offer even the most discerning collector. You can explore the ornate metal work from the Georgian period, diverse designs with bold bracelets or necklaces, or go for a romantic gemstone set in a cocktail ring.
Vintage jewelry designs are easy to incorporate into outfits to create unique statements. Whether she wants to turn heads or simply wants something that is a unique reminder of her personality, vintage jewelry is a perfect Mother's Day gift idea.
Looking at the jewelry that she wears can offer insights into her style and preferences, but if you're still unsure, let our expert jewelers help you find the perfect vintage jewelry gift.
Contact Charles Schwartz today for help finding the perfect DC Vintage Jewelry Gift Ideas for Mother's Day.