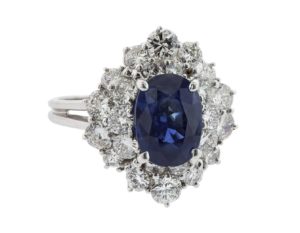 With alternative bridal rings trending, it's no wonder that people are drawn to vintage engagement rings and jewelry. DC vintage jewelry gives women an opportunity to express one's individuality and show off unique pieces that often can't be replicated.
From the Art Deco Era To The Victorian Era, Charles Schwartz Has Something To Offer All DC Vintage Jewelry Collectors.
 The industry has seen a cultural shift towards a renewed appreciation for jewelry with a history. Vintage jewelry especially can meet this appeal because of vast range of styles and unique nature. You can explore ornate metal work, diverse designs with bold pieces, or go for a romantic gemstone.
Three different time periods to explore when choosing a vintage engagement ring:
Victorian: This era was split into three periods: Romantic, Grand and Aesthetic. Rings from this era show off the advanced stone-cutting techniques. A popular style from this era is a cluster which typically had a center gem, such as a ruby or sapphire, and then a cluster of chunky mine-cut diamonds will surround the center stone.
Edwardian: This era is known for a lighter, airier and more open design. You will often see filigree designs and platinum metal. Popular styles of engagement rings during this period include wider bands with leaves and floral motifs designed around the gems.
Art Deco: The art deco era saw a style of jewelry arise in the 20s and saw one or many of these traits: platinum or white gold metal, old European cut diamonds, a geometric design, filigree and calibré cut stones (stones that are tightly spaced together against other stones or metal)
DC Residents: Why Buy Vintage Jewelry and Engagement Rings?
An article from Forbes perhaps said it best:
"The combination of story, rarity,  the character and personality that is inherent to the craft and details of antique and vintage rings, the instant sustainability that comes with choosing a ring that has been around for 50-100 years, and the diversity of styles all fit with what today's bride is looking for when she accepts a proposal. There is also the investment and appreciation value of a ring that has a past and provenance and a beautiful antique cut stone for when it gets passed down to the next generation."
Let the experts at Charles Schwartz help you find the perfect vintage jewelry and engagement rings in DC today. Contact Us >