Spring is a time of renewal, new beginnings and promises, and that includes spring proposals!
The expert jewelers at Charles Schwartz have been helping Washington, DC area couples find the perfect vintage engagement ring for over 100 years.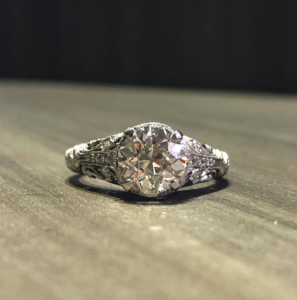 Your something old doesn't have to be old-fashioned. With a vintage engagement ring, you'll be sure to have something you'll cherish for years to come.
Click here to see a selection of vintage, estate and antique engagement rings.
Statement Engagement Rings or Simple Engagement Rings?
One of the most important considerations when choosing a vintage engagement ring is the overall style they like. Do they prefer simple jewelry, like a solid band and a single diamond, or a unique statement pieces with colored stones and ornament designs?
For example, if your significant other prefers simple engagement ring designs, consider a cushion cut engagement ring, which features large facets and rounded corners that pair well with antique settings.
By observing the jewelry collection of your significant other, you'll be able to determine what type of style they have. It is important to find a vintage engagement ring that matches your loved one's preferences.
Diamond Engagement Rings or Sapphire Engagement Rings?
The center stone of the jewelry is another important aspect of your vintage engagement ring. If your loved one prefers more traditional and simple jewelry, then a diamond is likely the right choice for your custom engagement ring's center stone.
However, if they prefer more unique and bold jewelry, a sapphire might be the right choice. Sapphires have recently become a fashion trend for unique engagement rings, largely started by the Duchess of Cambridge's antique family heirloom engagement ring.
If you want a setting that makes your stone appear larger, consider a halo engagement ring, which features a setting of smaller round diamonds, encircling your center stone.
Finding the Perfect Place for your Spring Proposal
The story of how you proposed will be told to friends and strangers for the rest of your lives so you want to make sure the story is a good one!
After the experts at Charles Schwartz find the perfect ring, the next step is choosing how to propose. Check out various proposal ideas here.