Custom Engagement Rings in DC: Are you planning a holiday proposal for your significant other? The jewelry experts at Charles Schwartz will help you choose the perfect custom engagement ring!
Holiday proposals are a widespread and long-loved tradition. According to Modern Bride Magazine, 30% of all marriage proposals occur in November and December. Christmas Eve, Christmas Day and New Year's Eve are the three most popular dates to propose. The holidays inspire feelings of union and family, what better time is there to announce your commitment to the one you love?
Choosing the perfect custom engagement ring is often considered the most important step in planning a seamless holiday proposal. Whether you plan on doing some shopping together to try on different styles, or you'd prefer to skip the expedition and go right to the grand gesture, the DC custom engagement ring expert jewelers at Charles Schwartz have been helping couples find the perfect custom engagement rings for over 100 years.
Unique Engagement Rings or Simple Engagement Rings?
By observing the jewelry collection of your significant other, you'll be able to determine if they prefer simple jewelry or unique, statement jewelry. It is important to find a custom engagement ring that matches your loved one's preferences.
If your significant other prefers simple engagement ring designs, consider a cushion cut engagement ring, which features large facets and rounded corners that pair well with antique settings.
Many consider the type of center stone to be the most important aspect of their custom engagement ring. If your loved one prefers more traditional and simple jewelry, then a diamond is likely the right choice for your custom engagement ring's center stone.
However, if they prefer more unique and bold jewelry, a sapphire might be the right choice.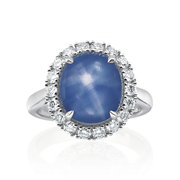 Sapphires have recently become a fashion trend for unique engagement rings, largely started by the Duchess of Cambridge's antique family heirloom engagement ring.
If you want a setting that makes your stone appear larger, consider a halo engagement ring, which features a setting of smaller round pavé or micro-pavé diamonds, encircling your center stone.
If you're planning a proposal this holiday season, contact us to find your perfect custom engagement ring!