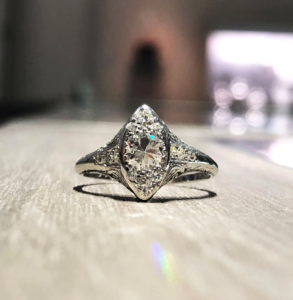 Sometimes it can be overwhelming to choose from a large selection of engagement rings. We want to make the process as easy as possible for you and your loved one, so choosing to create a custom engagement ring in DC will help ensure that you are selecting a ring that you'll love forever!
Don't Stress! Picking Out Your Custom Engagement Ring in DC is as Easy as 1-2-3.
While all the options on the market may be daunting, consider creating a DC custom engagement ring to ensure that from the start of this process, to the moment it goes on her finger, it will be as special as your relationship.
Step 1. Set A Budget Create the perfect ring for your perfect budget. This is a very practical and important matter to think about beforehand. You don't want to go into the process and create the ring only to realize it is way outside of your price point!
Step 2. Select the Elements of the Ring. This includes choosing a band, a center stone, the shape of the center stone and the size. It's important to understand the four C's of diamonds: carat weight, cut, color and clarity. Diamonds vary in price based on these four C's, so knowing what to look for will help you during the process. Is she perhaps interested in an alternative gemstone? Consider a sapphire or a ruby, making the ring stand out.
Step 3. Review the Ring (and of course try it on!) Charles Schwartz's number one priority is your satisfaction in the final result. We will review the final engagement ring to make sure that your engagement ring is exactly as you specified. We take pride in our name as one of the most recognizable jewelers in Washington DC.
Whether you plan to surprise your partner or to shop for your ring with them, we are here to help you create the perfect ring you'll cherish forever.