An antique engagement ring DC is one of the most important purchases you'll make.
The expert jewelers at Charles Schwartz are here to help you find the perfect antique engagement ring DC. Our jewelers have been matching couples with their dream rings for 130 years so you can trust their expertise.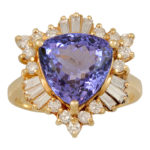 Finding Your Antique Engagement Ring DC:
Determine which era best suits your style: If you like bows, ribbons, and rounded designs, then the Edwardian era may be the right fit. If you prefer bold geometry with sharp angles, grids, and fans, then something from the Art Deco period could be the ideal choice. Perhaps you prefer the Victorian era with its elegant use of brightly colored gemstones and ornate patterns.
Find the stone that's right for you: While a diamond is usually the first thing to come to mind when choosing a center stone for your antique engagement ring there are many other options to consider such as sapphire, pearl or emerald.
Pick the perfect setting: An important detail that is often overlooked when it comes to an antique engagement ring DC is the setting. If you prefer a subtler look you can consider a solitaire setting. On the other hand, a halo setting could be the right choice if you prefer a set of smaller diamonds encircling the central stone making it appear larger.
A Professional Jeweler Can Help you Find your Antique Engagement Ring DC
Choosing a professional jeweler that you can trust is an important part of your search. If you seek out a professional jeweler make sure to find one who values their relationship with customers. At Charles Schwartz our expert jewelers are dedicated to helping you find the perfect antique engagement ring DC.
 We look forward to helping you choose the perfect antique engagement ring DC soon!