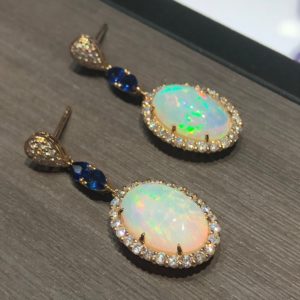 Opals are known for their striking beauty and uniqueness, and those born in October are lucky enough to call this gem their birthstone. In the 1890s opals started being mined and produced commercially in Australia and have since become widely popular. When you're looking to buy vintage opal jewelry, whether it be for a loved one's birthday or just to add to your collection, turn to our jewelry experts for all your vintage jewelry needs.
The Romans believed that opals were the most precious gem because it reflected the colors of other gems.
Opals are the most unique gem in the world. With no two being exactly alike, no one else will have one exactly like yours.
Opals have a vast number of color variations and look different from every angle, giving you the opportunity to find one perfect for your wardrobe.
Opals are often cut into shapes that differ from the norm. The irregular cuts allow the gem to show off as much color and variety as possible.
Opals are a relatively light gem, meaning a larger gem will feel lighter and more comfortable to wear than other stones.
When shopping for an opal you'll want to work with someone who knows vintage jewelry and understands the stone. Our experts have been assisting clients with all their jewelry needs since 1888 and are ready to help advise you on your next purchase.
Opals are the perfect gift for your loved one with an October birthday or even just for yourself. Come view our selection of vintage opal jewelry in-store today and see why we love this stone so much.
Let the oldest jeweler in DC help you find the perfect vintage opal jewelry. Contact us today.