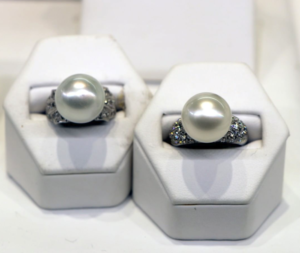 For those born in the month of June, it might seem like you've hit the gemstone lottery with not one, but three birthstone options to choose from: pearls, moonstone and alexandrite. All three possess a timeless beauty that is sure to appeal to anyone born in June, making the vintage jewelry in DC crafted from them the perfect birthday gift.
Vintage pieces are one-of-a-kind. They are often handmade, always distinctive and even sometimes created by techniques no longer practiced today. When selecting a gift for someone with a June birthday you can choose from the following gemstones:
Pearls: This is the only gemstone made by a living creature. The finest pearls appear creamy white because of their naturally reflective luster but there are cultured freshwater pearls that can be dyed colors such as yellow, green, pink and black.
Moonstone: A misty stone that the ancient Romans and Greeks associated with deities of the moon. The stone is formed in layers, giving the surface a glowing appearance when light falls between them.
Alexandrite: A very rare, color-shifting stone supposedly named for Russian Czar Alexander II. It is often described by gem aficionados as "Emerald by day, ruby by night."
Need Help Picking the Perfect Present? Choose Vintage Jewelry in DC for a Classic Look
 At Charles Schwartz, we have a wide selection of gemstones to choose from, such as pearls and moonstones, to help you find the perfect gift. From cocktail rings and bracelets to earrings and necklaces the opportunities are endless.
 For over 130 years, we have been helping people find the perfect piece of DC vintage jewelry.
 Let the oldest jeweler in DC help you find the perfect piece of vintage jewelry in Washington, DC. Contact us today >