So you've found the engagement ring of your dreams, picked out the perfect wedding band to match…what's next? As the bride there's no question that you'll be to the center of attention on your wedding day, and naturally you'll want to dazzle your guests! Accessorizing on your wedding day can be a difficult task—you want to stand out and sparkle without overdoing it. The secret behind a beautiful bridal look is all in the details—the diamond-studded details that is! There are a number of ways to add a little sparkle to your wedding day look—from timeless pearl necklace to stunning diamond necklace and beyond!
As you plan your wedding day, check out these ideal picks for bridal necklaces, along with the rest of our bridal basics guides to help you create the perfect bridal look for your special day: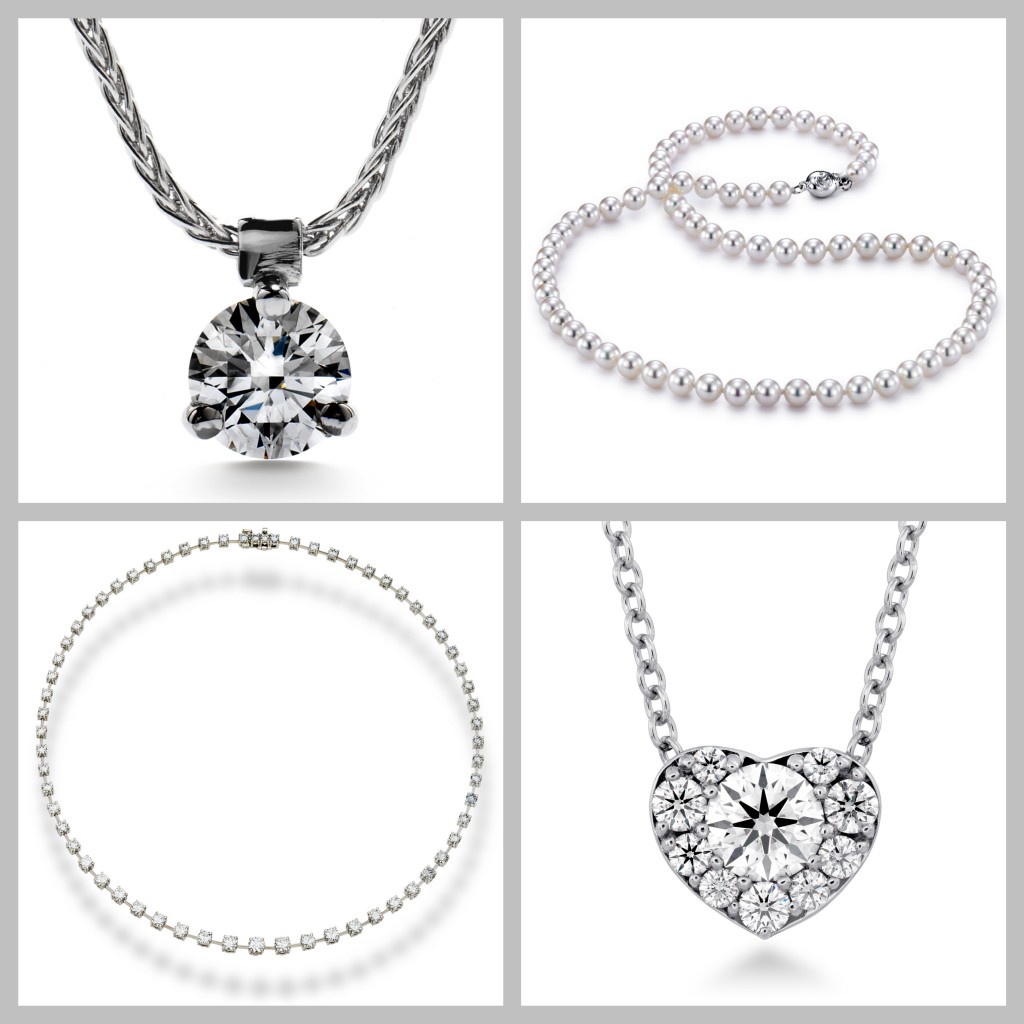 The Classic Choice: If you're looking for a simple yet stunning necklace, consider a classic Mastoloni pearl necklace (top right), SUNA's Starry Night Diamond Circle Platinum Necklace (bottom left), Hearts On Fire's Three Prong Solitaire Pendant (top left) or Hearts On Fire's Fulfillment Heart Pendant (bottom right).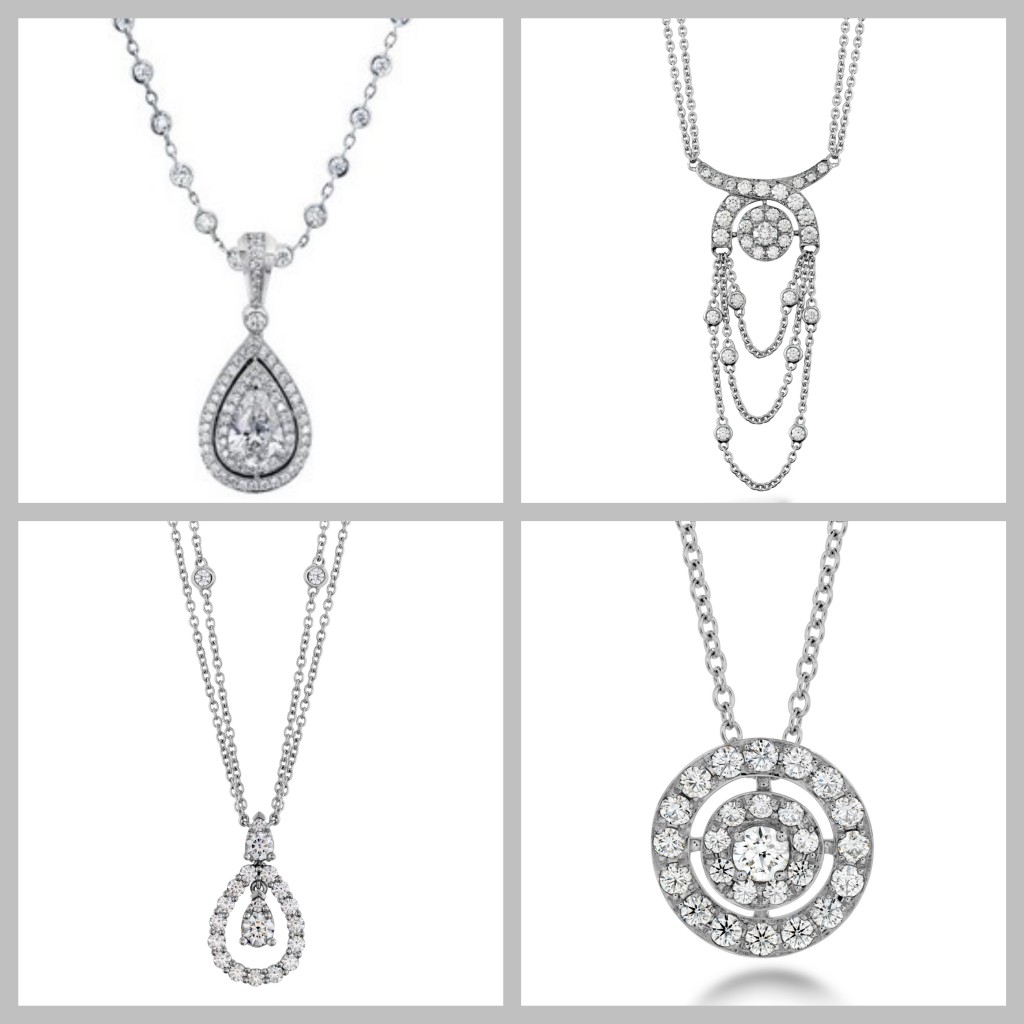 The Perfect Pendant: Add a little sophisticated sparkle to the neckline of your wedding dress, with the diamond-studded dazzle of the perfect pendant like this Diamond Pendant by Beaudry (top left) or classics like this Inspiration Double Halo Pendant by Hearts On Fire (bottom right). On the other hand, elegant pendants like Hearts On Fire's Aerial Diamond Drop Necklace (bottom left), offer a novel yet timeless style of its own—with its detailed, diamond-intensive design and delicate features. Furthermore, pendants like Hearts On Fire's Inspiration Chandelier Necklace (top right) offer a distinctive style many modern brides adore, with its unique, bold design that is both timeless and fashionable.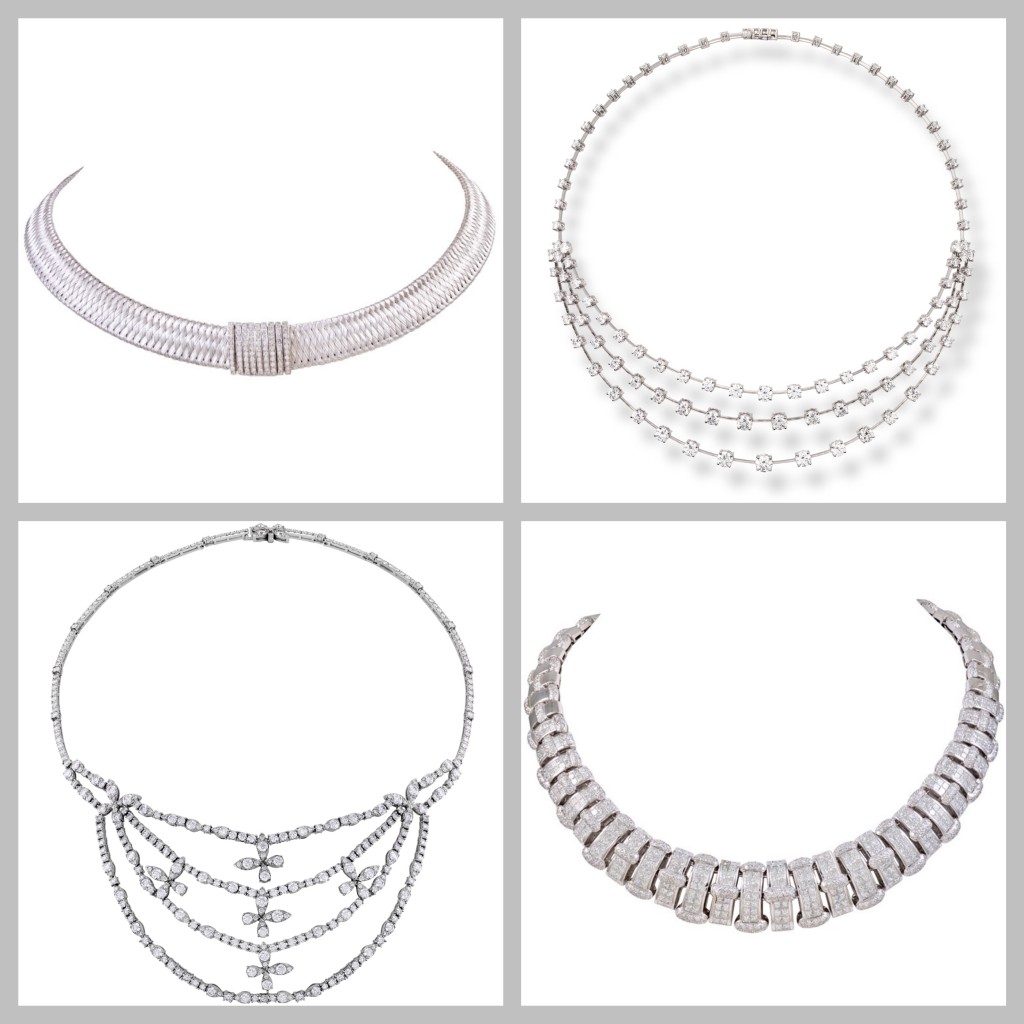 The Dramatic Statement: For those looking for a dazzling, diamond-intensive stunner for a wedding dress with a moderate neckline, consider Hearts On Fire's Aerial Diamond Necklace (bottom left) which offers over 17 carats star-studded style, with layers of elegant butterfly motifs and diamond chains, or SUNA' Bros Starry Night 3-Row Diamond & Platinum Necklace (top right), with 102 dazzling diamond for a total of 19 carats of diamond dazzle! On the other hand, the short, choker style of this Diamond Collar Necklace (bottom right) and this Diamond & White Gold Necklace by Roberto Coin (top left) are both ideal for high-neckline wedding dresses, with their short choker-style and stunning sparkle!
Looking for more tips and tricks to find the bridal jewelry of your dreams? Stop by one of our two Washington DC locations for expert advice from the Capital's Oldest Jeweler!