Searching for the best jewelers in DC? Look no further than Charles Schwartz & Son!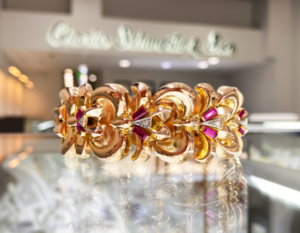 The Best DC Jewelers; Who other than Charles Schwartz & Son?
Based in the nation's capitol since 1888, Charles Schwartz & Son is the longest-running jeweler in the district. As a strong member of the community for 135 years, this family-owned business has not only served as arguably the most well-known jeweler in the area but is also most devoted to their customer's overall experience. We are here to serve our customers in all capacities – whether it is to find the perfect gift for someone special, to freshening up a family heirloom, or everything in between.
Designer and Vintage Galore, the Best DC Jewelers have everything you want… and more!
The options are endless with designers from Tiffany & Co. to Rolex to Cartier and Van Cleef. The countless choices of unique pieces of designer, estate, vintage, and other jewelry styles contribute to the status of being the best jeweler in Washington, DC. Aside from the wide range of pieces available for sale, we offer a variety of services:
1. Jewelry or Watch Repair: Damaged jewelry pieces? Our specialized craftsmen will assess your piece, with guaranteed repair and restoration to its original appearance.
2. Jewelry Financing: Looking to purchase an expensive piece? Financing your purchase will allow you to space out payments in a manner most suitable for you.
3. Jewelry Appraisal: Unsure of your jewelry's value? We can provide a full appraisal.
4. Sell Your Jewelry: No longer want your jewelry? Our knowledgeable staff will make the process simple for you to sell your antique, vintage, designer jewelry, and more, quickly and confidentially.
We know that we are the best jewelers in the DMV, and so do our customers! The family-oriented environment creates a positive atmosphere for all customers to have the greatest experience possible. To see for yourself, visit our Friendship Heights or Penn Quarter locations.
Want to learn more about our Jewelry Store in Washington, DC?
Contact us today!