With striking geometric shapes and bright stones, Art Deco engagement rings always catch the eye
The expert jewelers at Charles Schwartz are here to help you begin the search for your perfect Art Deco engagement rings.
What are Art Deco Engagement Rings?
Art Deco engagement rings are vintage engagement rings from the Art Deco period which occurred in the early 1900s. Art Deco is short for the French word Arts Décoratifs which means "decorative art." This style was developed by the unique artists who became popular during this period when French nationalism grew as a response to a rise in German imports. Deco is a combination of rich materials and modernist styles. In its peak of popularity, it represented glamour and luxury as well as the technological progress at the time.
The art and jewelry from this period are characterized by sharp lines, striking symbols, prominent angles and bold geometric shapes. A unique feature of Deco engagement rings is the brightly colored center stones often used to complement the sharp, stylized designs of the rings.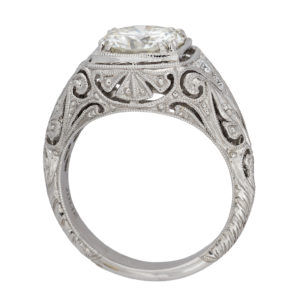 If you're on the hunt for an engagement ring that stands out, the Art Deco era is the right place to look- it represents a unique time in history when art was undergoing a revolution and becoming industrialized. Pieces from the Art Deco era do not lack in popularity either; even Scarlett Johansson had an Art Deco engagement ring from a previous marriage. Within the Art Deco period, there are many unique style variations to choose from. The expert jewelers at Charles Schwartz are here to help you with your search for the perfect Art Deco piece. We've been helping our customers find their dream vintage jewelry pieces for 130 years now.
We look forward to seeing you soon, to find your perfect Art Deco engagement rings.