Since 1888 we've helped numerous customers find the perfect designer, vintage, or custom engagement ring for their significant other. We've helped people in all stages of the buying process.
Buying an engagement ring in Washington, DC can be overwhelming there are so many options and considerations.
No matter if you're starting out or you've been searching for a while, we're here to help.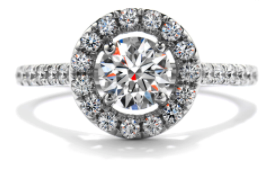 Here are a few of the most frequently asked questions we tend to get from customers:
Should I go designer, custom or vintage/antique with my engagement ring? Designer jewelry is a great option if you have something in mind, love a specific designer or fall in love with a ring you see. The rings are often pre-made or you can select a setting and stone size from what's available. If you're looking for something more unique and with more personality, a custom engagement ring or a vintage engagement ring may be right. When you choose to go custom, one of our expert jewelers will help you design the perfect ring for your significant other, while antique engagement rings are a great option for a unique style and history of the piece.
How do I decide on an engagement ring style? We recommend starting by finding a few engagement ring styles that you like. There are countless setting, metal, and stone combinations you can come up with, but we can help you narrow it down to what you really want. We'll consider your significant other's style to figure out whether they're into something more flashy or something more understated. We can also walk you through the benefits of different metals and settings that would suit your significant other's style. Lastly, and maybe most important: Try it on! While you may love a style, sometimes certain stones or shapes just look better on certain hands/fingers.
Diamonds vs. gemstones, which one is best?  First, set your budget as that could affect your decision. Some brides truly prefer the classic look of a diamond while others want a more unique look with a gemstone. We can talk through the benefits of each stone and what your significant other likes or tends to wear to help you decide on a stone. We can also do a combination of a diamond with accenting gemstones or vice versa so you can have the best of both worlds.
When you come in for a consultation we'll discuss your budget, style preferences, stone preferences, and timeline to come up with a few options for you. We're prepared to help you buy a ring today or simply help you narrow down your search for the right ring. Our highly knowledgeable team aims to help you find the perfect ring for your proposal and get you exactly what you're looking for.