What is the History of Engagement Rings?
Throughout history, jewelry has always played a major role in society. Through the ever-changing trends, designs, and styles, jewelry has always been an integral part of anyone's closet and fashion style. The estate jewelry experts at Charles Schwartz & Son are extremely well-versed in classifying and dating estate jewelry of all shapes, sizes, and colors. They are happy to answer any questions you may have about your own pieces or pieces we have in our shop.
Charles Schwartz and Son purchase sfine vintage jewelry and heirlooms from a variety of eras, including the Art Deco Era and the Retro Era.
The Art Deco Era was born during the Jazz Age, which was seen as a time of technological advances, quick urbanization, and uncontrolled consumerism. Jewelry from the Jazz Age, also referred to as the Roaring Twenties, was inspired by the recent societal advances in architecture and industry. This led to many of the pieces from this time period having prominent linear symmetry and bold geometric elements.
Jewelry from the Retro Era was intended to be a whimsical and amusing distraction from the atrocities of World War II. Originating in France, this era of jewelry is most known for its big, bold, and oversized designs that were intended to mimic the glamorous and coveted Hollywood lifestyle of the time period.
Vintage engagement rings come in a variety of stones, settings, and styles. Our selection of vintage rings is constantly changing but below are a few of the pieces we currently have in stock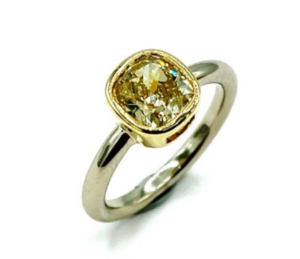 This natural, brownish-yellow diamond ring is stunning! The 1.38 carat cushion shaped diamond is bezel set in 18K yellow gold as a solitaire on a platinum shank. This piece is unique and truly a vintage gem!
This is a gorgeous Ruby and Diamond ring that adds a pop of color to any outfit. The 2.14 carat crimson red Ruby is set in a four prong basket mounting, with a single round brilliant Diamond on each side. It would look amazing on anyone's finger!
If you are curious about what era your estate jewelry may be from you can use the following information to assess the characteristics of your jewelry.
Gemstone(s): Gemstones have been a staple of high-end jewelry design for centuries and the popularity of specific gemstones varied amongst eras. Looking at when your ring's gemstone was popular could help you determine when your piece was from.
Metal(s): The type of metal(s) incorporated into the design of a piece of estate jewelry, along with the metal's karat weight, can reveal a great deal about the age and relative origin of a piece of estate jewelry. Just like stones, these things change throughout the eras and are great indicators of a ring's age.
The Best DC-Area Jewelers: Charles Schwartz!
Our team of experts has been assisting customers with all their jewelry needs since 1888 in Washington DC. We pride ourselves on our expansive knowledge of jewelry collection, from their creation to when they go home with customers. While each piece we have is gorgeous, our engagement rings are truly magical pieces of jewelry and are very special to our team.
We love to help our customers find the engagement ring that they'll propose to their significant other with.  When you're ready to find your ring, no matter the color, shape, setting, or era you desire, Charles Schwartz & Son can help you pick out the perfect piece.
To schedule a consultation with one of our expert jewelers and find the perfect vintage gemstone engagement ring for your significant other call 202-363-5432 or click here.