Never thought you would see the day when you could wear your great-great-great grandma's brooch pin, and it would be cool? Well, 2023 is the year!
The Brooch is Back: Celebs from Rihanna, Nick Jonas, Bella Hadid, Trevor Noah, Sarah Jessica Parker, and more are bringing back the vintage brooch.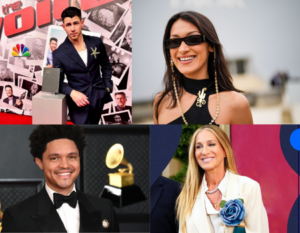 Rihanna could wear anything and make it look fabulous, but she is not the only celebrity bringing back the brooch as a key to completing their outfit. Performing at this year's Superbowl, Rihanna wore not one, not two, but three different brooches for her groundbreaking halftime show performance. Rihanna took her lyric "shine bright like a diamond" literally with her diamond studded brooches on her red puffer jacket.
Celebrity Nick Jonas rocked a large sparkling starfish brooch pin on his lapel as a coach on "The Voice" in 2021. In a social media clip, Jonas said that he has "big brooch energy."
Other celebrities such as Trevor Noah, who wore a stunning Tiffany & Co brooch pin at the 2021 Grammy Awards, or supermodel Bella Hadid, wore a Dior cactus brooch pin in her 2021 runway walk, are bringing the brooch back.
It seems that celebrities have caught vintage brooch fever!
Everyone wants to look like a celebrity, but when we can't, we can at least copy their styles, starting with the vintage brooch.
A brooch is a fashion accessory that clasps your clothing using a pin. Brooches started as a way to make pinning clothing together look more fashionable but now are typically worn on jackets, shirts, or sweaters. One goal of wearing a brooch pin is to make your outfit look more luxurious and pulled together.
To embody brooch styling like Rihanna, you must know how to style it. Here are five ways to style a vintage brooch:
Style on a sweater or jacket. This is a traditional way to style a brooch. Styling the brooch pin beneath the collarbone of a sweater or jacket adds a touch of elegance to your outfit.
Attach it to a hairpiece. For more formal occasions, you can consider your brooch as a type of hairpin. Secure your brooch into your French braid or updo to dress up your hair!
Attach it to your bag. Attach your luxury brooch to your handbag. Suddenly you have a one-of-a-kind luxury bag that will be the talk of the party.
Wear it as a necklace or chocker. Use a necklace chain to string through your brooch, and you will have a brand-new necklace. This is the perfect way to create a statement piece without buying a new necklace!
Clip onto a dress. Attaching a brooch to a solid color dress will give it that embellishment you never knew you needed.
Don't be afraid to experiment with your luxury vintage brooch pin. You can always find new ways to wear a brooch!
Are you interested in purchasing a vintage brooch?
Visit one of our locations or call us at 202-363-5432 to tell us about your needs!