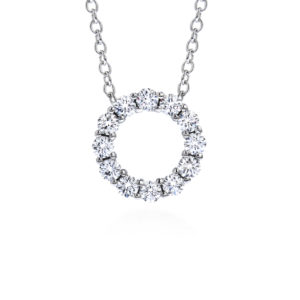 Designer jewelry gifts can come in all shapes, sizes, and prices. It can be hard to figure out where to start, but luckily the experts at Charles Schwartz can help you figure out the perfect gift for your significant other that they'll truly love.
Whether you know what your significant other wants in a piece of designer jewelry or don't know where to start, these designer jewelry gifts are sure to put a smile on her face.
Necklace– A necklace is one of the most versatile pieces of jewelry you can give as a gift. Whether you're just starting out as a couple or celebrating your 40th wedding anniversary, a necklace is a fantastic gift that can symbolize whatever you wish. Women of all ages love a good necklace, and with a wide selection, you can surely find one that fits her style perfectly.
Bracelet– When deciding on a bracelet, you'll want to pay attention to her style. Would she enjoy a large statement piece or something dainty she can wear with a more casual outfit? Consider the jewelry she currently wears and how a new piece would fit into what she tends to like.
Earrings– Earrings are very versatile because you can choose something over the top like long dangling earrings, or go for something simple like diamond studs. Consider if your significant other currently wears earrings and what style they are when choosing a pair for her.
Ring– A ring can be a very intimate gift. If you're thinking of popping the question, we have a wide selection of engagement rings to choose from. But if you're not quite there yet, or are already married, a designer ring can be a wonderful way to celebrate your love. She can wear it every day or on special occasions, but she's sure to think of you every time she sees it.
Brooch– Brooches are a beautiful way to embellish an ensemble. When looking at brooches, consider what she wears out to dinner with you, to work, or other events. You want to find something that would complement outfits she wears to such occasions and would be something that matches her style. We can guide you through this as you look at our selection in store.
Watch– When purchasing a watch for your significant other, it's important to consider what kind of watch she would like. Would she wear the watch daily or just on special occasions? This can help you narrow the material the watch is made out of, and they style of watch that best suits her. For instance, a leather watch can be more sophisticated and saved for special events than a stainless-steel watch, which may be worn daily.
Trust the Experts at Charles Schwartz To Assist You with Designer Jewelry Gifts
When you're deciding on a piece of designer jewelry for your significant other, you want to make sure it's something that she'll love and be proud to wear. Our experts have been helping customers for over 100 years find the perfect designer jewelry piece for them. We'll discuss your partner's style, what she wears now, and what will suit the occasion.
Call us today at 202-363-5432 to make an appointment or reach out online and let us guide you through our favorite designer jewelry gift ideas.