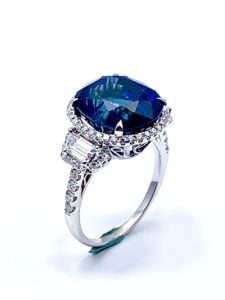 Vintage jewelry makes a great addition to any collection and can be a great conversation starter or just a fun gift. Vintage and Antique jewelry can be a great choice for an engagement ring for a bride who wants something unique or a new addition to your jewelry collection. Before shopping for antique or vintage jewelry in DC, there are a few things you should know.
When buying DC vintage jewelry, you should keep in mind:
Budget– Antique pieces come in a wide range of prices depending on the designer, condition of the piece, demand, and rarity. You should have a budget in mind when shopping for a new piece.
Style– Everyone has a preference as to what style jewelry they wear, and antique jewelry can vary from simplistic to intricate so it's best to have an idea of what you're looking for. Before shopping for your newest ring, necklace, or pair of earrings, have some styles in mind.
Era– The style of the piece is affected by the time period. For example, the Edwardian Era saw innovations such as the creation of the baguette and marquise gemstone cuts, along with others. The Art Deco Era features abstract designs whose distinctive styles are easy to recognize. Read more about the eras of jewelry
Antique, Vintage, or Estate– While many categorize antique, vintage, and estate together, there is a difference. Antique jewelry was made 100 or more years ago, meaning each piece is filled with its own unique history. Vintage is typically 50-100 years old, offering that historic feel, but is still newer and sometimes in better condition than antique. Estate jewelry is preowned jewelry that can be antique, vintage, or contemporary.
Designers– Choosing a designer can help narrow your search. Whether you love Tiffany & Co., Cartier, David Yurman, or you're open to seeing all options, we can help you find a piece that speaks to you and fits your collection perfect.
Charles Schwartz has been helping clients find jewelry they love for over 100 years. We'll look at your budget and discuss your favorite style, era, and designers. Whether it's a gift for someone special, or you're just adding to your collection, let us help you find the right piece for you.
Call us today or reach out online to make an appointment and come see our collection of vintage jewelry in DC.