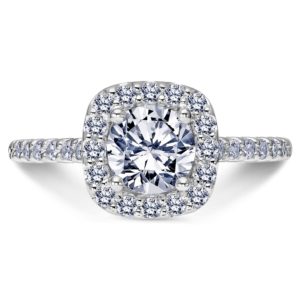 Choosing a setting for your significant other can seem like a daunting process, but almost everyone can agree that a halo stands out from the crowd and adds just the right amount of sparkle to any ring. If you're looking for the perfect engagement ring to pop the question with this engagement season, there's still time to consider a halo engagement ring in DC.
Halos add extra sparkle- Solitaire diamonds are gorgeous, but who doesn't love extra bling? By adding a halo to a ring, you get added sparkle and "wow" factor.
A halo can protect your diamond- Halos can help shield your center stone from everyday wear and tear by taking more of the bumps from wearing a ring all day every day.
Halos are timeless- This style has been around since the 1920s, making this ring timeless and elegant so you won't have to worry about having a dated ring.
They make your diamond appear larger- If you're concerned about the size of your center stone, a halo can help. By adding a halo, it accentuates the center stone and makes the ring look bigger as a whole, which in turn can make it appear more expensive and extravagant.
They work with all shapes and sizes- Halos aren't limited to a specific size or shape of the diamond. They can work with cushion, emerald, circle, and any other cut you can think of. They can make any size diamond look more beautiful.
To learn more about what else you need to know when buying an engagement ring in DC, click here.
Halos are a great addition to any ring and can be customized to fit your significant other's dream ring. Whether you're interested in something from our store, or if you want to take a more creative approach and create a custom ring just for her, when she sees the sparkle and beauty of her ring, she's sure to say yes.